GROUNDBREAKING TECHNOLOGY
PDC Drill Bits
the #1 Trusted Bit Provider IN NORTH AMERICA
Ulterra®'s premium PDC bits are engineered to last; every bit is designed in-house for performance, consistency and dependability. Choose Matrix or high-strength steel to suit all your drilling applications. From design to delivery, we produce the highest-quality bits in the industry because we know that every run counts.
We measure our success by your trust.
Over
67 M
feet drilled in 2021
Nearly
575
operating partners
BIT DESIGN
The Highest-Performing PDC Bits in the Industry
Drilling dynamics change all the time and operators have to adapt quickly. Ulterra uses the latest simulations and data analytics to make sure our designs solve the most current challenges in the industry. As an operator, your time is money, so we've streamlined our Design Engineering department to deliver advanced PDC bit designs in weeks rather than months or years.
TECHNOLOGY
ULTERRA'S Leading-Edge Technology
You deal with difficult challenges every day. Vibration mitigation, cuttings evacuation, hydraulics issues and more. We've developed our proprietary drilling technologies portfolio specifically to solve your drilling challenges. From the ground up, our bit technology integrates a host of performance improvements that add up to more than the sum of their parts.
Strike, Balance. Limit vibration with Counterforce.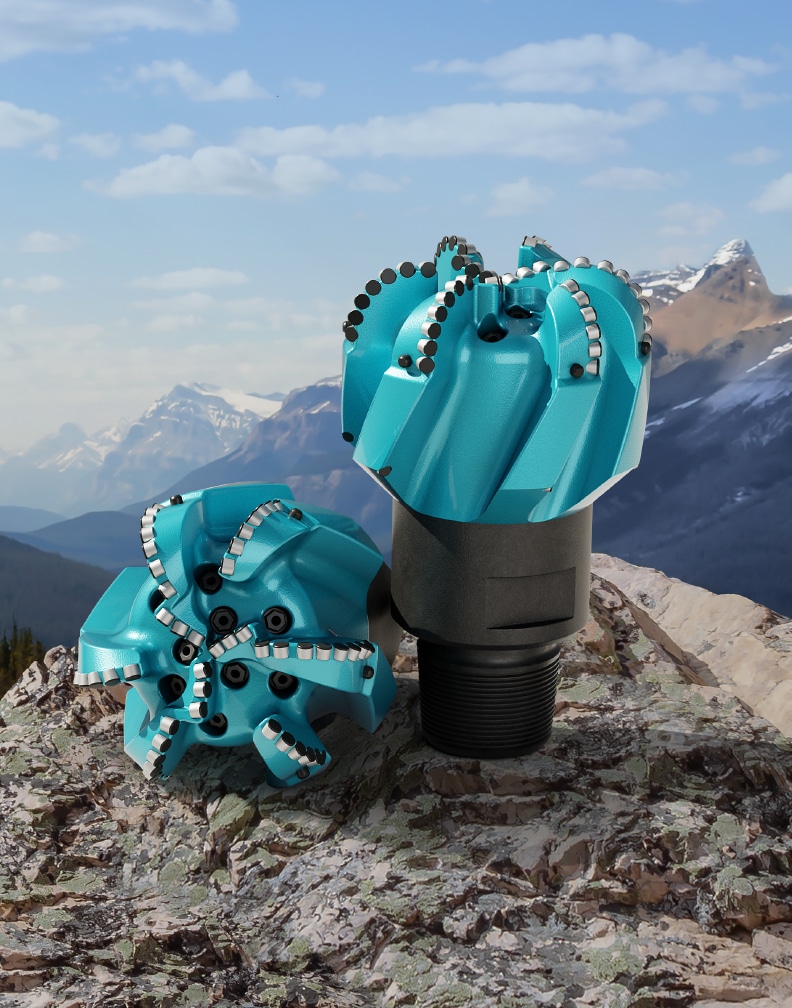 Unleash your speed. Maximize drilling potential with unparalleled cuttings evacuation from Split Blade.
Break through your limiters with the active torque technology in Ripsaw.
Get the Blade out of the way and free your maximum drilling potential.
The first AirPDC™ brings the high performance of PDC Bits to air drilling applications.
Built Stronger, XP bits go the distance with robust construction and cutting structures.
Heavy gauge protection for drilling in Canada's unique multi-leg oil sands & SAGD applications.
OMEGA® CUTTERS
The Right Cutter Technology at the Right Time
Ulterra's Omega Partnership continually delivers industry-leading technology when and where you need it. We listen to your engineers and create the development feedback loop that informs our development process. Omega is a turnkey solution that combines development, allocation and state-of-the-art deep-leached cutter technology, keeping you equipped with the latest in the industry.
Communication
Ulterra communicates daily with our OMEGA partners, rapidly providing performance analysis. We then quickly deliver the next development in cutter technology to the field.
Application
Our team of OMEGA engineers selects and dispatches the right cutter grade and type for the application, prioritizing customer success and performance improvement.
Technology
Using after-action reviews of past and present drilling performance from our comprehensive bit record database, we work closely with our OMEGA cutter partners to constantly develop new cutter technology that is driven by the drilling goals of our customers.
The latest cutter technology, brought first to the field from the worlds best PDC cutter suppliers.
APPLICATION ENGINEERING
Hands-On Application Engineering
There's nothing like being in the field to understand the performance limiters our customers encounter. Our field-based applications engineers work closely with drilling engineers to address performance issues in every application. We then develop proprietary tools and data sets to support the advanced drilling operators like you do in basins around the world.
Ready to get started?
At Ulterra, we are driven to be best drilling partner you can choose. Reach out to see how our focus to deliver rapid improvement and consistency to our customers can save you money on your next well.