Defend against HFTO & Bit impact damage in vertical sections.
HFTO & STICK/SLIP
--- REDUCE BIT IMPACT
---
DUAL SENSOR DATA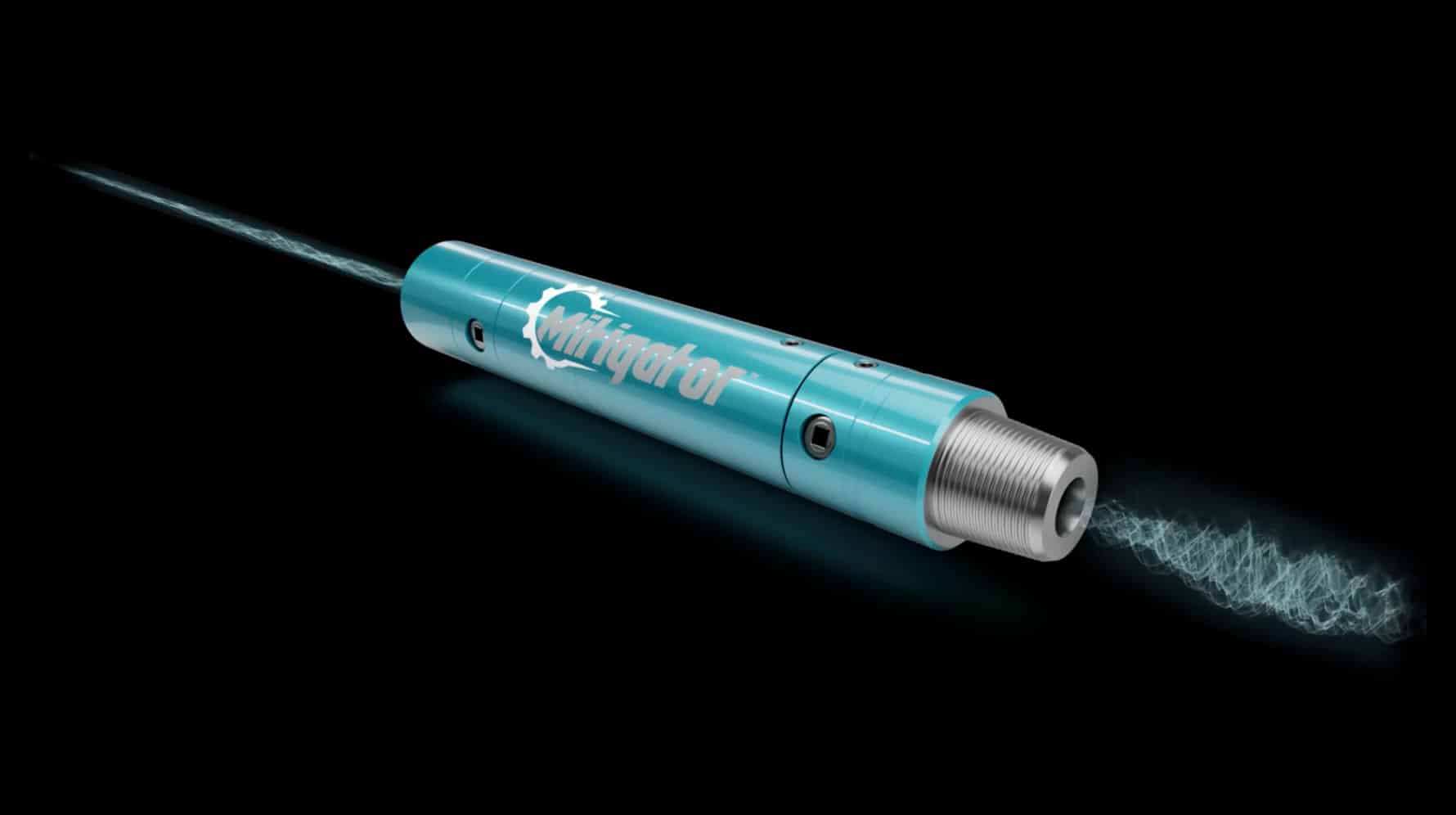 ---
OVERVIEW
HFTO & Bit Impact Arrestor
The Mitigator™ is a patent pending torsional damper that limits HFTO, reduces the occurrence of stick/slip, and improves bit durability. By rapidly deflecting and recovering from rotational shock events, the Mitigator smooths torsional impacts in the BHA and at the Bit without limiting depth of cut. Drilling performance can be elevated while maintaining bit and BHA durability to hit target depth.
HFTO Mitigation
High speed vibration, also known as High Frequency Torsional Oscillation (HFTO) is a drilling dysfunction that flies under the radar of most sensors and contributes to a wide range of performance limitations. The chart below shows how much damaging shock the Mitigator is capable of absorbing during a 30-minute interval of drilling.
Bit Impact Reduction
The Mitigator has proven to reduce impact loading at the bit which leads to direct improvements in cutter life, higher average penetration rates, better dull conditions, and a reduction in DBRs. The chart below compares torsional shock levels at the bit in back-to-back wells, illustrating the benefit of having the Mitigator in your BHA.
---
TECHNOLOGY
Vylon™ Technology
Vylon polymer technology arrests HFTO, Stick/slip, and Bit Damage while being fully enclosed within the tool, isolated from drilling fluids.
Isolated, High Torque Elastomer
350°F Max Rating
Dual Shock Sensors
Optionally equipped with two high frequency data records that allow for direct visibility of drilling dysfunction but also how well the dysfunction is mitigated.
1200 Hz Shock Sample Rate
100 Hz Vibration Sample Rate
100+ Hours Record Life
---
TECHNICAL SPECIFICATIONS
| | | |
| --- | --- | --- |
| Outer Diameter | 8.00 IN | 203 MM |
| Inner Diameter | 2.81 in | 71.5 mm |
| Make-up Length | 36.40 in | 925 mm |
| Ultimate Tensile Load | 1,000,000 lbs. | 4,450 kN |
| Max Allow Over-pull | 300,000 lbs. | 1,330 kN |
| Temperature Max | 350°F | 177°C |
| Connection Top | 6-5/8 REG (box) | |
| Make-up Torque | 57,000 –66,000 ft-lbs | 77,280 –89,500 N-m |
| Connection Bottom | 6-5/8 REG (pin) | |
| Make-up Torque | 57,000 –66,000 ft-lbs | 77,280 –89,500 N-m |
| | | |
| --- | --- | --- |
| Outer Diameter | 6.75 IN | 171 MM |
| Inner Diameter | 2.25 in | 57.1 mm |
| Make-up Length | 36.85 in | 936 mm |
| Ultimate Tensile Load | 475,000 lbs. | 2,112 kN |
| Max Allow Over-pull | 300,000 lbs. | 1,330 kN |
| Temperature Max | 350°F | 177°C |
| Connection Top | NC50 (box) | |
| Make-up Torque | 23,800 –26,100 ft-lbs | 32,300 –35,350 N-m |
| Connection Bottom | NC50 (pin) | |
| Make-up Torque | 23,800 –26,100 ft-lbs | 32,300 –35,350 N-m |
CASE STUDIES
Read about how the Mitigator is helping optimize drilling
sp